The Free Range Flock
Free Range Comedy is Maui's leading short form improv troupe. We perform fast-paced comedy improvisation utilizing 6-8 performers to create a 1-1.5 hour show. All scenes are invented in the moment from audience suggestions, with each show incorporating audience volunteers in as many games as possible. The most often heard remark as people leave our shows is "My face hurts from laughing!"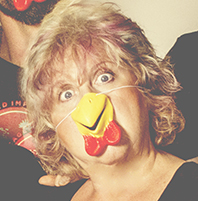 Kristi is quite boring in real life and spends a lot of time brooding.
She is very thankful to have free range to bring her out of her shell.
She is looking for a rooster and promises not to henpeck him.
Karen Stavash learned improv with the Comedy Hui in 2010, and has been performing as lead singer of the Kit Kat Club Cabaret for the past ten years.
Favorite stage credits include Dulcinea in Man of La Mancha, Little Sally in Urinetown, and Honey Bunny in Pulp Fiction.
She can think of nothing better than to be goofing off with these funny mother-cluckers known as Free Range Comedy.
John Williams grew bored of just pretending to be John Williams. That's why he does improv.
You may HAVE seen him slyly palming soldier figurines or demanding shrubberies from royalty.
We really don't know this person or what she does...but she is funny.
Improv feeds the 8 year old inside of Chris.
He must be fed.
He is grateful to be part of Improv on Maui and loves the instant creativity improv demands. "It is like meditation, the less I think the better.
I thank my Goddess Jennifer for signing me up for improv classes 2 years ago, without that, I would have never gone down this path.
Let's all put on our tutus and pour ketchup on ourselves and pretend we're dead and then when someone walks up we'll jump up and dance around laughing at them for being scared. That would be funny and scary.
Matthew Brass was born of a funny German chicken farmer and a loving Irish artist. He has performed professional comedy improv with the Pono Players and the Inspirates both on Maui as well as Comedy Sportz in Portland Oregon.
Matt advocates laughter as a primary nutrition and an accurate barometer of navigating a vivid enriching life adventure.
He appreciates the other members as "Wonderfully hilarious" and "Delightfully disturbing enlightenment."